LIBIDON (CAPSULES)

Restores & Maintains Vigor & Vitality And Improves Overall Health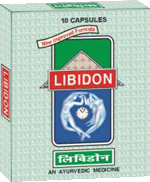 Real pleasure in life comes only when you are physically, mentally & sexually fit. Life holds no charm for men, who are physically weak, mentally unsound and sexually finished or exhausted.
LIBIDON
is providential boon and effective herbal remedy --- which adds zest to life of men/women suffering from sexual depression, loss of strength, impotence, oligospermia, seminal debility and sexual frigidity in both sexes.
LIBIDON Capsules contains all those rare herbs in therapeutic concentration, which have established-their coveted efficacy in fighting all these conditions very effectively & successfully.
SALIENT FEATURES:
* LIBIDON as the name reflects, has been formulated to increase libido in male.It restores conjugal harmony.
* LIBIDON does not contain any male sex hormone testosterone (which, due to its pituitary inhibiting action, indirectly inhibits natural secretion of testosterone from the testes.
* LIBIDON increases the metabolic process at a tissue level to improve endocrine gland activity.
* Stimulating and satisfying experience during sex.
* Increases performance & copulation time.
Symptoms
* Stress, general weakness.
* Lack of confidence.
* Mental agony of "not performing well" sexually.
* Erectile dysfunction in males & frigidity in females.
COMPOSITION (Each Capsule Contain)
Mucuna pruriens
Withania somnifera
Asparagus adscendens
Anacyclus pyrethrum
Orchis Latifolia
Excipients
200 mg.
100 mg.
100 mg.
20 mg.
50 mg.
q.s.
Mucuna Pruriens;
Exert excellent aphrodisiac action and also enhances sexual desire. Mucuna Pruriens favorably influences catacholamine metabolism and exerts coveted mood elevating action. Mucuna Pruriens also ensures coveted aphrodisiac action and enhances sexual desire. Combination of Withania Somnifera and Mucuna Pruriens has been extensively used with success for improving physical fitness, mental alertness and sexual sufficiency.
Withania Somnifera;
In these days of fast tempo of life & economic depression; in majority of people anxiety, stress-depression, feeling of dejection is too common today. Withania Somnifera in such cases show definite affect in alleviating symptoms of anxiety, nervousness and reduces level of mental fatigue. Besides, it also exerts coveted antis tress & adaptogenic effect.
Asparagus Adscendens;
Eliminates sexual inhibition and is also useful in weakness of the genital organs.
Anacyclus Pyrethrum;
Exerts needed rejuvenative, vitalising action and induce feeling of strength. It is also a brain tonic & has adaptogenic effect.
Orchis Latifolia;
Used in general debility
INDICATIONS:
* Sexual depression and feeling of lassitude
* Loss of strength & impotency
* For satisfactory performance & reciprocal co-operation
* Lack of libidio
* Functional impotence in males
* Oligospermia & Spermatorrhoea
* Acute & chronic libido depression
* Erectile dysfunction in males.
* Premature ejaculation.
* Sexual dissatisfaction in males
* Low sperm count in males.
DOSAGE:
One capsule twice daily for first 45 days with milk after meals, followed by maintenance dose of one capsule for next 60 days.
Soya milk or chicken soup can be used instead of milk,
PRESENTATION:
Blister pack of 10 Capsules.