LIVERALL (CAPSULES)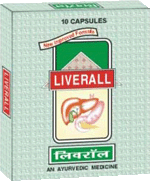 Liver is the largest gland in human body. It is a chemical factory that receives all products of digestion via blood vessels from intestines. It is a store house for future. It transforms a part of food for immediate use and part is used for emergency.
Functions
1. Production of digestive juices -bile.
2. Store house of glycogen.
3. Convert fatty acids to forms that can be easily oxidized to generate energy.
Liver Disorders
1. Jaundice.
2. Hepatitis.
3. Cirrhosis -dearrangement of normal pattern of tissues of liver due to faulty diet, alcohol or side effect of drugs like nicotine.
Liverall is a complete accomplished hepato stimulant, hepato protective and hepato regenerative therapy.
COMPOSITION (Each Capsule Contain)
Turbinella Rapa
Extract of Andographis Paniculata
Extract of Picrorrhiza Kurroa
Extract of Eclipta Alba
Extract of Solanum Nigrum and
Extract of Boerhavia Diffusa
100 mg
100 mg.
100 mg.
25 mg
25 mg
25 mg
Andographis Paniculata
is hepato protective. It safeguards liver from harmful effect of alcohol and other hepato toxins.
Picrorrhiza Kurroe
restores liver's activity, normalizes it mechanism.
Eclipta Alba
roots & seeds are used in derangement of liver and gall bladder.
Solanum Nigrum
used in inflammatory swelling and chronic cirrhosis & enlargement of liver.
Boerhavia Diffusa
Hepato-protective.
Salient Feature
* Daily use of Liverall protects hepatic parenchyma, against all toxins.
* It increases diet, improves digestion & assimilation.
* It improves hepato cellulas repairs & regeneration.
* It protects liver against toxic affect of alcohol, drug and chemicals.
* Liverall prevents hepatic damage and fights anorexia.
* Liverall reduces intrahepatic congestion.
* Liverall is of immense therapeutic value in management of liver hypertrophy, malnutrition, infective hepatitis and anorexia.
Indication
* Cirrhosis
* Infective hepatitis
* Chronic hepatitis.
* Hepato protective.
* Hypertrophy of liver.
* Adjuvant therapy in malnutrition.
* Anorexia
Dosage
One capsule twice a day for 15 days. One capsule twice a day for 30 days or more or as directed by physician in acute case.
Presentation
Blister pack of 10 capsules.s.