VIRILON FORT (CAPSULES)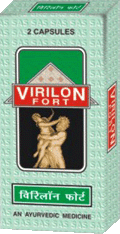 Erectile dysfunction or failure (impotence) is thought to be due to psychological causes in majority of cases. The incidence of these condition increases with age
When male virility, potency and sexual performance is of concern Virilon Forte is safe and reliable aphrodisiac. It is an ideal product from male sexual inadequacy and functional impotency.
Virilon Fort ignites desires, urge & passion
Virilon Fort transfer desire into perfect action
Virilon Fort corrects sexual neurasthenia
Virilon Fort increases coitus duration
Virilon Fort enhance ensures post coital satisfaction
Virilon Fort improves erection
Virilon Fort corrects premature ejaculation
Composition:-
Each Capsule contains extracts of:-
Extract of Mucuna Prurita
150 mg
Extract of Withania Somnifera
100 mg
Extract of Asteracantha Longifolia
50 mg
Extract of Asparagus Adscendens
50 mg
Extract of Orchis Latifolia
50 mg
Extract of Asphaltum Panjabinum
50 mg
Extract of Ash (Bhasma) of Mercury (Sidh Makaradwaj)
15 mg
Ash Of Lead, Ash Of Tin, Ash Of Zinc
15 mg
Excipients
q.s.
Processed in decoction of Withania Somnifera Asparagus Racemosus Dioscorea Vulvifera
Mucuna Pruriens
its seeds are astringent, nervine tonic and aphrodisiac. Its root is nerve tonic and hair are local stimulants. Seeds are prescribed in form of powder in leucorrhea, spermatorrhea , to increase sperm motility and as a nervine tonic and sexual stimulant. It is used in general debility and is one of the best aphrodisiac.
Withania Somnifera
is used in all cases of senile debility, nervous exhaustion, memory and muscular energy loss and spermatorrhea. It infuses fresh energy and vigour in system worn out due to any constitutional disease on overwork and stress. Its roots powder with milk cures seminal debility.
Astercantha Longifolia
seeds are aphrodisiacs. They have aromatic stimulant substances that are used in impotence, seminal and other debility.
Asparagus Adscendens
is used in spermatorrhea, seminal weakness and impotency.
Orchis Latifolia
this has long been esteemed in India as a great restorative and in vigorator and a tonic aphrodisiac in diseases characterized by loss of sexual power.
Dosage:
One capsule a day with milk, after meals for 10-15 days. For protempo action one capsule to be taken one hour before retiring.
Contraindication
It is absolutely safe drug. But to be used with caution in hypertension and cardiac disorder.
Presentation Blister pack of 2 capsules.